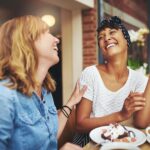 Communication Skills
One of the elements of living a healthy lifestyle is positive communication. Learning positive communication skills is beneficial to your relationships, your mind, and your health.
My colleague Aliza Aziz is a communication skills specialist. She used to live in Sunnyvale, and a few years ago, moved abroad with her husband and amazing 4 children. I am recommending her workshops to my patients.
As she most aptly notes, communication skills are your emotional and psychological self-defense. With any form of self-defense, you must learn and practice the correct skills for them to be effective and available to you when you when needed.
"Why do we keep having the same arguments over and over?
"I know I shouldn't yell at my kids, but I do anyway."
"How come nobody ever listens to me?"
Sound familiar?
Aliza Aziz presents her workshops to learn and practice positive communication skills.